OTCnet Local Bridge (OLB) Information and Resources
Overview:
The OLB is an application that must be installed on all workstations performing check capture, check processing, and terminal configuration operations. The OLB removes the OTCnet application's dependency on the Java browser plug-in. If the OLB is not installed on your workstations, it will impact your ability to process checks properly. The OLB application is downloaded by Check Capture Administrators within OTCnet. For assistance with this process, see resources below.
OLB Installation Resources:
Training:
OLB Configuration and Setup Guide PDF: Provides step-by-step instruction on how to complete the OLB Setup, enabling terminals to connect to the OTCnet Online Application without Java Applets.
OTCnet Training Website: Please navigate to the OTCnet Training Website for Printable Job Aids and simulations for downloading, installing, and starting the OLB (Modules 2.1, 6.4, 6.5, 6.6).
Videos:
Step-BY-Step YouTube Videos for OLB Set-up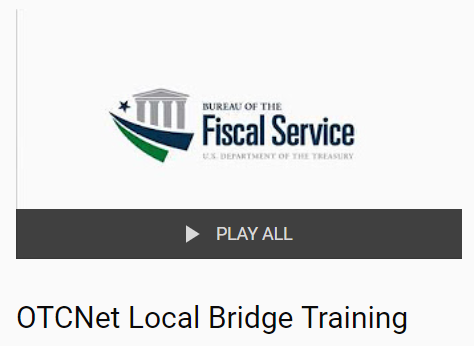 Recorded Webinars:
Additional Resources:
Questions?
To complete the OLB rollout successfully, work closely with your IT Team to complete the OLB prerequisites (IE configuration settings and OLB Certificate). If you have any questions about the OTCnet Local Bridge, contact the OTCnet Deployment Team at Fiscalservice.OTCDeployment@citi.com.