Financial Management Capability Framework
The Financial Management Capability Framework (FMCF) is the standards and capabilities that define baseline needs for solutions and services in the FM QSMO Marketplace Catalog, including cloud-based core financial systems (Core FS). By ensuring that baseline standards are incorporated into Marketplace solutions and services, we'll help agency leaders gain efficiencies as they plan modernizations, comply with federal policies, and support improved data accuracy and reporting.
The FMCF consists of nine (9) sections or components. It is based on federal financial management (FFM) standards and includes more capabilities defined by the FM QSMO that support and complement the standards.
The FMCF was developed in collaboration with federal agencies and industry stakeholders. The framework is used as a basis for evaluating and ensuring that Marketplace solutions and services meet baseline needs. FM QSMO's goal is to standardize and streamline what is common for agencies.
The Guide to the Financial Management Quality Service Management Office (FM QSMO) Marketplace provides an overview of how the FM QSMO operates and how providers apply FMCF standards and capabilities in the FM QSMO Marketplace.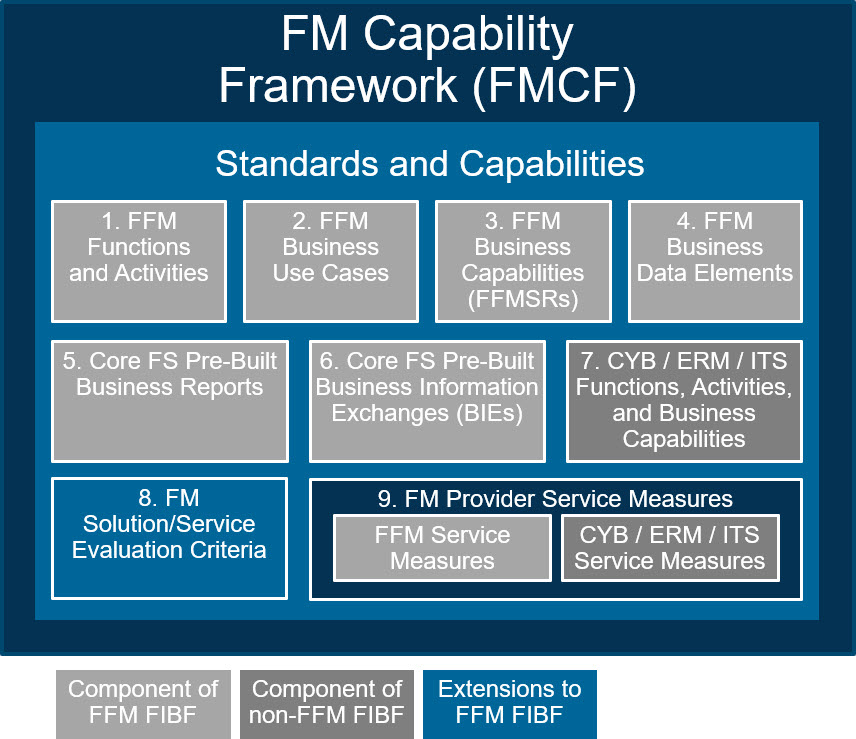 The FM QSMO and the Financial Management Line of Business (FMLoB) are responsible for maintaining the FMCF and will periodically update it to show changing policy or other requirements. To do this, we work closely with other Lines of Business and standard setting agencies, federal agencies, the vendor community, and other stakeholders. To stay informed of pending changes and draft updates, please monitor the FMQSMO Updates web page or contact us to be added to our mailing list.
The FMCF resources below contain links to each component.
FMCF Components - FY 2024
| FMCF Component | Description |
| --- | --- |
| | Common financial management functions and activities serve as the basis for understanding what services agencies need and what solutions should be offered. This list of 11 functions and 54 activities defines the financial management functions performed by a federal agency. |
| | These agency "stories" document the key activities, inputs, outputs and other intersections to describe how the Federal government operates. They are organized into 11 end-to-end business processes that have a federal financial management impact. |
| | FFM Business Capabilities show the federal financial management system requirements (FFMSRs) that agency financial management systems must substantially comply with. These outcome-based business needs are mapped to federal government authoritative references, forms, and data standards. |
| | This minimum set of business data elements shows what is required to support the inputs and outputs identified in the business use cases, capabilities, business information exchanges, and business reports. |
| | Core FS providers are expected to have these reports pre-built and in their Core FS solution offering. These reports support FFM Functions and Activities and FFM Business Use Cases. |
| | Core FS solutions need to exchange data with other systems. Business rules provide the common exchanges of business information between two functional areas or between a functional area and a centralized service/solution. |
| Functions, Activities and Business Capabilities for: | These capabilities establish expectations for FM solutions and services in the Marketplace. These include the functions, activities, and capabilities from federal cybersecurity, ITS and ERM which must be incorporated into FM solutions and services. |
| | These criteria are used by the FM QSMO when evaluating potential offerings for the FM QSMO Marketplace and during Federal agency acquisition. The criteria include business, technology design, and technology operation criteria for evaluating FM solutions/services and programmatic, economic, and organizational criteria for evaluating the providers of FM solutions/services. |
| | Define how the government measures successful delivery of outcomes based on timelines, efficiency, and accuracy targets for FFM outcomes and successful delivery of CYB, ERM and ITS activities that support FFM activities. |
Additional References
| Additional References | Description |
| --- | --- |
| Guide to the FM QSMO Marketplace | A guide that explains the scope of the Marketplace and how the FMCF will be used. |
| FMCF 101 Training for Agencies | Training material that gives agencies the information needed to locate, define and restate the purpose of each FMCF artifact and use the FMCF to benchmark and standardize their existing FM capabilities. |
| FMCF 101 Training for Vendors | Training material that gives vendors the information needed to locate, define and restate the purpose of each FMCF artifact and design FM Solutions/Services that conform to the FMCF. |
| FMCF FY 2024 Release Notes | A summary of the updates made to the FMCF components in the FY 2024 release. |
FMCF Archive
Contact Us