Automated Standard Application for Payments
The Automated Standard Application for Payments (ASAP) is a completely electronic system that federal agencies use to quickly and securely transfer money to recipient organizations.
Federal agencies enroll recipient organizations, authorize their payments, and manage their accounts. Recipient organizations then request payments from these pre-authorized accounts.
Recipient organizations include state and local governments, educational and financial institutions, vendors and contractors, profit and non-profit entities and Indian tribal organizations.
ASAP is free for both federal agencies and recipient organizations.
ASAP Training Opportunities
Upcoming free training to learn more about ASAP.gov:
Contact ASAP Production Support to find out about additional training opportunities.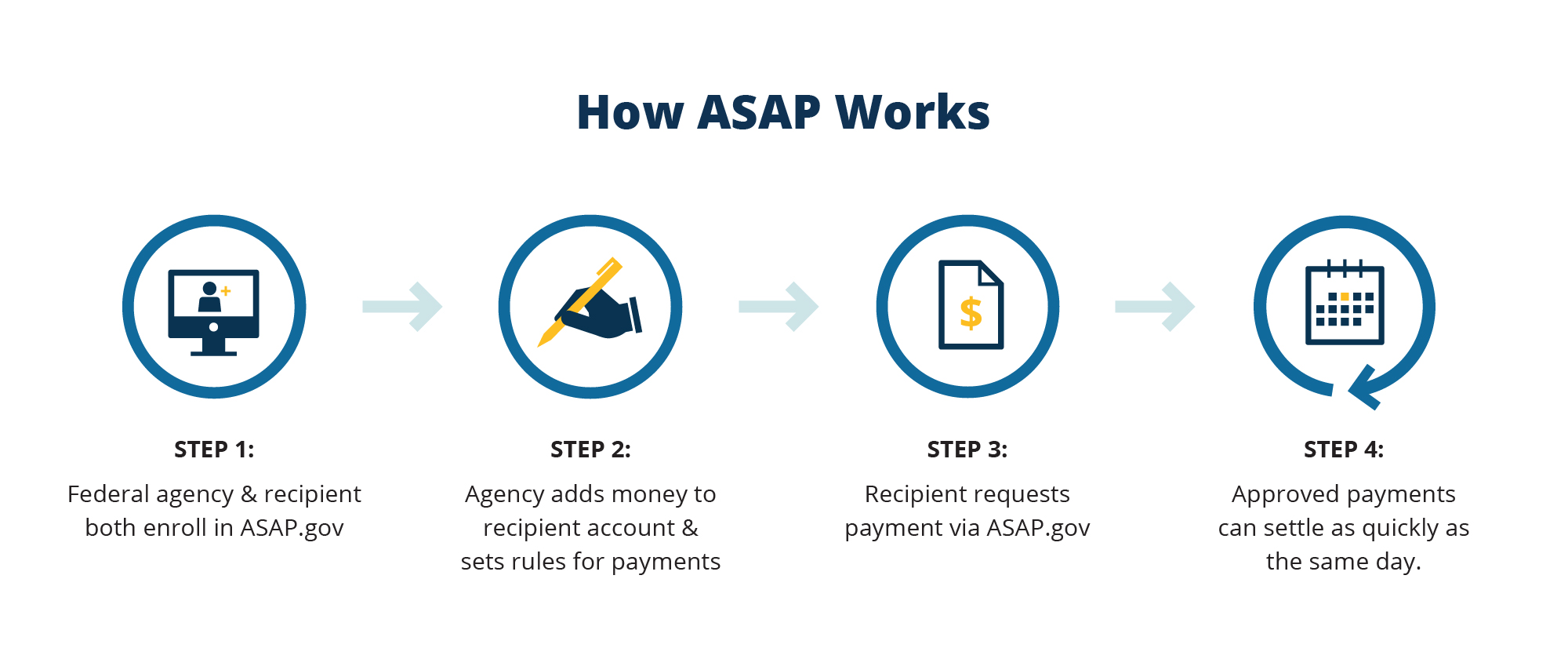 Getting Started
Login to ASAP
Benefits of ASAP
Saves time and money for both federal agencies and recipients
Gets money to recipients quickly
Transfers money securely
Reduces the cost and liability of having funds held outside of Treasury
Works without needing to install new software
Lets both federal agencies and recipients see and get reports of relevant data including account balances, history and status of payments, and more
Offers live customer support to both agencies and recipients
Program Features
Agencies create and update ASAP accounts for recipients via online or batch
Agencies submit paperless authorizations to alter the available balance of these accounts
Agencies can warehouse authorizations up to a year in advance
Agencies can set withdrawal limits to control recipient payments
Recipients submit paperless payment requests online
Recipients select Fedwire to receive payments within minutes
Recipients select ACH to receive payments within the same or following day
ASAP automatically rejects payment requests that exceed the available balance
ASAP allows agencies to intervene and approve or reject payment requests
ASAP allows electronic payment returns and book entry adjustments
ASAP provides access to up-to-the-minute reports
ASAP allows agencies to subscribe to automatically receive end of day reports
ASAP allows agencies to focus on their distinct mission not payment problems
Payment Options with ASAP
Grant Payments: Grantees get money the agency has pre-authorized.
1031/Letter of Credit Payments: Financial agents get reimbursed for services they do for federal agencies, including the Bureau of the Fiscal Service.
Debit Card Payments: Financial institutions that administer the U.S. Debit Card program get money the agency has pre-authorized.
Stay Up to Date with ASAP
Subscribe to e-mail notifications and get news and updates delivered right to your inbox!
Join the Mailing List