Enrolling in CAS
All agencies interested in establishing a card services account can complete a CAS Application and work directly with CAS program staff, if assistance is needed for the following:
Traditional Stand-alone Terminals
Value Added Resellers
Integrated Software Vendors, or
Mobile Applications and Devices
Agencies that want to establish a new account and/or add locations to an existing account for card processing through Pay.gov, need to contact their organization's Pay.gov Implementation Specialist to submit applications for consideration. If you do not know your Implementation Specialist, please send an inquiry to the following email address: Pay.gov@fiscal.treasury.gov.
Agencies who qualify to work with CAS directly can join CAS through three (3) simple steps:



To gain a high-level overview and history of the CAS program, check out the CAS 101 deck.

Read the Treasury Financial Manual (TFM), Part 5, Chapter 7000 on Credit and Debit Card Collection Transactions for card acceptance and comply with the CAS Security Posture to meet the minimum security standard for card data protection.

Apply for a new CAS account or add locations to an existing account, fill out the CAS Application online.
Enroll in CAS Today
CAS Application Process
To apply for a new CAS account or add locations to an existing account the requestor will be required to establish a Pay.gov account (i.e. User Name and Password) in order to submit a CAS Application for onboarding. Pay.gov credentials are required, even if your organization is not utilizing Pay.gov as a collection mechanism.
If the requestor has an existing Pay.gov account, and it is not set-up to access the consumer site, where the CAS Application is housed, the requestor will need to reach out to its Pay.gov Security Contact for assistance OR establish and maintain a non-agency specific Pay.gov account prior to completing the CAS Application.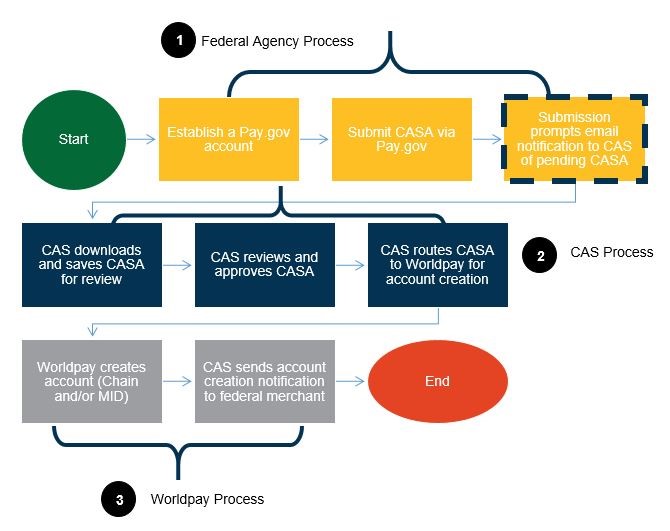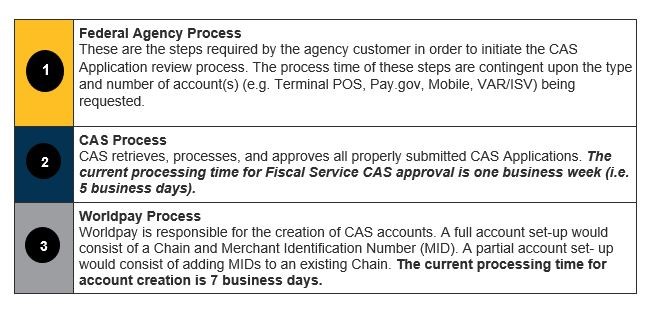 CAS Users Must Follow Security Requirements
Any agency that accepts credit or debit cards is also responsible for protecting customers' sensitive card information.
View Security Requirements