Getting CIR Reports
As a CIR user, you can see your data through standard reports or XML files.
You can run standard reports on demand or schedule them to run at regular times. You can look at standard reports in CIR, or you can download them to your computer. You can download the reports in PDF, Excel, or CSV format.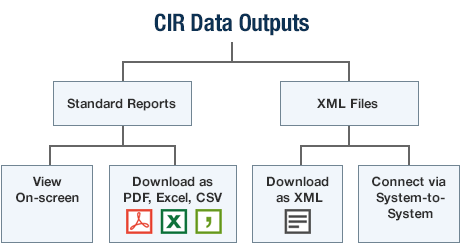 Content & Parameters
CIR allows you to pick the content and parameters you want in your reports.
Content Options:
Detail only
Summary only (deposit level data)
Summary and detail
Parameter Options:
Frequency of file generation
Selection criteria (ALCs, accounts, date range, collections systems, etc.)