'How Government Built This' Innovation Spotlight: Encouraging Change by Putting People First to Enable Action – Treasury's Approach to Digital Transformation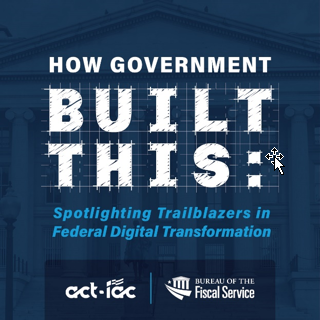 Welcome to "How Government Built This," a six-part podcast and blog post series developed by the Department of the Treasury's Bureau of the Fiscal Service Office of Financial Innovation and Transformation (FIT) in collaboration with the American Council for Technology and Industry Advisory Council (ACT-IAC) a non-profit educational organization established to improve government through the effective and innovation application of technology. This series spotlights trailblazers in Federal digital transformation. Resources and links mentioned in each podcast will also be available at actiac.org/thebuzz.

Joseph (Joe) Gioeli III, Chief Information Officer, Bureau of the Fiscal Service, Department of the Treasury
Joe is the Fiscal Service Chief Information Officer and Assistant Commissioner for Information and Security Services (ISS) responsible for Fiscal Service's enterprise IT and security vision, strategy, and operations. Joe oversees a diverse technology footprint that supports the annual processing of over $6.4T in Federal payments, awarding more than $20.4T in marketable securities, and collection of over $4.91T in Federal revenue.
As the Fiscal Service Chief Information Officer and Assistant Commissioner for ISS, Joe oversees the execution of the ISS mission to empower people and organizations to promote the financial integrity and operational efficiency of the Federal government through technology enablement while ensuring the security of our people, facilities, and information assets. In 2020, Joe architected the Bureau's IT Strategic Plan, a transformational strategic framework that includes significant modernization initiatives. He joined the Bureau in November 2017 as the Fiscal Service Chief Technology Officer (CTO) and ISS's Deputy Assistant Commissioner (DAC) for Information Services. He has more than 14 years of experience implementing and supporting strategic IT initiatives and operations serving in many leadership roles across Treasury to include the Internal Revenue Service and the United States Mint.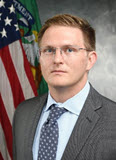 Nick Totten, Associate Chief Information Officer, Department of the Treasury
Nick Totten joined the Department of the Treasury in September 2012 and has served as the Associate Chief Information Officer (ACIO) for Enterprise Applications since July 2017. In the ACIO capacity, Nick is responsible for managing all Departmentwide applications and leading the Human Resources Line of Business servicing 38 agencies across government. Nick lives in Richmond, VA, with his wife and two children.
---
What does digital transformation mean to you and what inspired your agency to embark into this journey?
Joe said that digital transformation is about people and interactions, "It is about creating a people first culture internally in the organization and changing how we operate to deliver value to our customers." Joe mentioned it also means taking a larger look across people, process, data, and technology to reimagine the way the Bureau delivers outcomes and capabilities provided by empowering the workforce and providing them with continuous learning opportunities; by engineering and streamlining all processes; and by using technology to connect data and drive experiences.
Joe noted that inspiration came from the desire to keep pace with innovation across the sector, specifically driving customer experience; and the requirement for ensuring the security and delivery of services because of the ever-changing cyber landscape. Most topical was the pandemic. Joe highlighted how it marked an inflection point for Fiscal Service and drove a widespread digital transformation journey to rapidly implement and deliver the economic impact payments to millions of citizens as part of cares act.
Nick outlined Treasury's focus for identifying ways to improve the user experience, specifically building enterprise-wide common business applications for the entirety of Treasury. Nick highlighted how this provides the Department stability, allows them to standardize the workforce, and provides flexibility in how the Department manages and operates IT across the Department and its Bureaus.
What emerging technologies have been critical to your journey as CIO?
Joe stressed that an organizational vision and plan grounded in the needs and requirements of customers and business partners is foundational before even thinking about emerging technologies. He then highlighted the need to empower the workforce and build a service minded culture, by providing them with training and tools to help them achieve the adoption of any technology.
For technologies, Joe mentioned how Fiscal Service built a technology enablement and maturity framework to service that foundation for accelerating consistent and secure service delivery. At the core was the Bureau's cloud adoption efforts, transforming the enterprise architecture and the processes that support it, and adopting DevSecOps and an Enterprise API strategy. Joe continued by saying that an Enterprise API strategy is enabling many use cases for artificial intelligence and machine learning which are providing the CIO office with the right insights to stay informed during their Digital Transformation journey.
What were some of the key outcomes you were trying to achieve with Digital Transformation?
Joe outlined as key the more modern and secure methods of service that produce delivery outcomes which align with Federal mandates and customer expectations. Joe also mentioned how all the digital transformation work helps in delivering on the future Federal financial management vision the Bureau has put in place.
What surprises have you seen so far?
Joe said that 2020 was the inflection year for Fiscal Service in the wake of distributing the economic impact payments. One major success was centered around the Fiscal Service Treasury Check Verification Service (CVS), an effort that was delivered in three weeks, using DevSecOps and harnessing a repeatable and reusable cloud architecture pattern. CVS was a result of the Administration's mandate to reduce the potential for fraud and improper payments of Treasury checks at financial institutions and to date has validated tens of millions of checks in over 600 financial management institutions.
Joe mentioned that never in history has the Fiscal Service delivered something so significant, and so important in such a short time frame in all the policies and mandates that they were charged with. Joe also stressed at the center of this success was the ability to work together and rise to the occasion. He said that working together has sets the stage for adopting innovative ways, for solving problems and further enabling critical outcomes and moving the momentum of Treasury's digital transformation journey forward.
Nick highlighted how he is continually surprised and impressed by the versatility and adaptability of the workforce. The pandemic recovery was also a testing point for Treasury. They were tasked by the administration to build a web application for processing the intake of several Cares Act programs, which they built in three days. Nick mentioned how the workforce is the most important asset and he is continually impressed by the passion, commitment, and delivery by Treasury staff.
Nick also talked about the journey for transforming their legacy HR system, how they pivoted from waterfall into agile practices and how they struggled in the beginning, especially when culturally there was an engrained mindset of how to do things. Nick highlighted in some circumstances the importance of incremental change. His team was able to take legacy off systems and incrementally move to the cloud, avoiding $10-$30M in capital outlay.
Have you been able to sustain that rate of speed across the CIOs?
Nick stressed the more the workforce understands the technology, the needs and use of it, the more intuitive it becomes, the easier it is to rapidly adopt. Similarly, Joe mentioned the principle of employee empowerment, specifically for leadership and being seen as servants of employees. Supporting employees and providing them with a toolbox, or a set or repeatable architecture patterns is what helps to orient them more towards the mission.
How has your organization sustained momentum and employee passion for this transformation effort?
Joe outlined that the mission, vision, and goal keeps everyone focused and staying in touch with the workforce ensures everything resonates at all levels. Joe noted that working to build leadership at all levels of the organization is important and this plays a key role in sustainability. Along with this, Joe said that understanding where everyone fits and what the outcomes are helps with sustainability even though this is not always fun, and you may find people who are not open to the change. Joe noted one tactic an organization can use when getting objections is turning those into objectives and incorporating people into the change whether they are aware or not to support transformation efforts.
What surprises or problems has your organization come across during your digital transformation journey and what did you do to solve them?
Joe said that you can learn as much from failure as you can from success. He noted that 87% of government technology projects fail, but there are successes in lessons learned throughout the journey to move towards the final goal. He also highlighted that Treasury has moved towards projects that are more manageable and which cut risk.
Joe noted that incremental and continuous delivery methods can help in this regard and is a core value for the Department. Joe said that a project rarely fails due to a specific technology and those projects include people, processes, approaches, integrations, and different forms of communications. So, establishing a shared vision, proper communication forums, and empowering people makes a difference.
Transparency in the lifecycle of efforts, Joe noted, is important to success and psychological safety and continuous learning are all aids to success. Joe outlined that surfacing the critical gaps, applying lessons learned, and addressing them in an integrated and methodical way helps support success. Joe noted that when it comes to failure, capitalizing on failures and ensuring a safe work environment that is prepared for these risks makes a difference since these things will naturally occur.
How has your organization embraced people and culture on your digital transformation journey?
Nick outlined that people are the most important asset and trust is at the center of a successful organization. Nick noted that providing people with the opportunity to grow and learn from a diverse set of subject matter areas gives people the opportunity to build life long, robust careers at Treasury.
Nick highlighted that knowledge is not always power when it comes down to one individual. For an organization to be efficient and productive, there needs to be a cohesive unit that can thrive allowing everyone to progress in their careers. Nick noted that one other concept the Department uses is the "hard 40," meaning an eight-hour day so employees have balance. Nick highlighted that rewarding staff is important for embracing people and building an organization's culture.
How has your organization supported shifting people's perspectives during a digital transformation to develop and support change?
Joe outlined that USDT promoted for several years efficiencies coming from the line which means giving people the opportunity to share ideas which can be adopted across an organization to make things more effective. Joe noted that the Department seeks those opportunities to be more productive and hosts a Project Portfolio meeting every week where people can bring concepts and ideas forward to the greater group for consideration and assessment. Joe said that those ideas shared during these meetings are considered for their timelines and potential investment which allows people to have influence across the entire organization.
How is your organization integrating Diversity, Equity, Inclusion, and Accessibility (DEIA) initiatives across the enterprise?
Joe outlined that for many organizations direction starts at the top and DEIA is incorporated at the strategic level to ensure Treasury's success, and the success of customers too. Joe said that the Department is focused on developing inclusive financial services and one example that occurred during the implementation of the CARES Act was using modern technology to setup more channels to distribute debit cards to the banking community. Joe sid that these initiatives usually take a lot of time and the Department, through leaning in together, was able to do this quickly.
Another recent example of Treasury's leadership commitment to DEIA which Joe provided was the Department's selection of Dr. Jay Snipes as the Diversity and Inclusion Officer. Joe highlighted that another facet of incorporating DEIA principles is through investing in people, Treasury is investing in its digital transformation journey. Joe said that implementing transformative services is not a one size fits all task. There needs to be championing of diverse talent and skills and empowering people is the key to every effort's success. Using data and evidenced based decision making for DEIA principles can help drive DEIA across an enterprise.
Nick's team uses DEIA dashboards across the entire Department to ensure opportunities are being provided through assessment of this data. Nick said that the intent of these dashboards is to increase access to this data across all Treasury. The Department has presented these capabilities outside the agency in the hope that other government agencies can follow in the same path, use Treasury's technology, and even share code. Nick noted that this helps give agencies a head start on propelling these initiatives forward.
Nick stated that for any technology built, this is an expenditure of taxpayer dollars and if USDT can share this code with partner agencies in ways that help then the Department will always embrace this. Joe said also that understanding the perspective of the workforce and the customer at pre-deployment, at the initial onset of a new engagement, throughout delivery, and postproduction is important for getting feedback on what the workforce is saying.
Nick noted that Treasury also assesses technologies for bias throughout the systems and tools the agency has built, including training awareness courses and other curriculum which has been developed and have changed the way things are produced to ensure there is nothing that can be viewed in a negative way. Nick said this is an ongoing journey to mitigate and address these areas in an expedient way.
Often security features in technology are seen as roadblocks. How does your organization balance the need for cybersecurity along with the opportunity innovation presents to your organization including open data and open innovation?
Joe said the consolidating technology investments is important and when the surface area is too broad, and an organization is maintaining a bad portfolio it is much more difficult to maintain and secure that technology. Joe noted it also makes it difficult to align the security investments in a way which does not hamper the capability of the technology. Joe said, however, that if organizations can consolidate across platforms and architecture, the proper security considerations can be applied, and organizations can safeguard and manage technology investments.
Joe provided an example with an API service platform where if you have a common platform construct for integrations among applications it much easier to secure, and pinpoint and identify issues which may emerge. Joe said that this level of efficiency allows organizations to operate in a better way which allows a smaller workforce to do things in a more cost-effective manner. Joe provided the Southwest model as an example for incorporating a common fleet, requiring common maintenance and technicians allowing organizations to deliver more effectively.
Nick said that risk management and tolerance needs to be balanced with usability. When going through the process, a key element is having customer feedback incorporated and aligned with the risk management framework. This needs to be done in conjunction with consolidating the portfolio and making key investments to drive success.
What advice do you have for other agencies who are planning out digital transformations?
Joe said that people are at the center of delivering transformation efforts and need to be empowered, provided space with the tools they need to succeed, provided with communication forums that are open, and feedback loops set in place to keep their momentum going. He highlighted also that challenging the norm is key to a digital transformation since it is rare to reach digital transformation goals with only a technology solution. Joe noted that organizations should think critically about their current state and determine where business process re-engineering can be incorporated to add value to enterprise-wide operations. Joe highlighted that setting the foundation for enabling modern technology in an IT environment is critical and perfection should not become the enemy of good because change does not happen overnight.
Nick said that building coalitions is important. Communication needs to occur often and early to work with a diverse set of stakeholders both internally and externally to ensure the investments in technology are aligned with what leadership is hoping to do in any entity. Nick noted that when there is a problem or challenge, Treasury participates in committees to ensure there is a proper level of engagement, and there is a diverse set of perspectives included allowing organizations to further build and plan for success. Nick also said that it is okay to fail, but you need to fail fast and fail forward so when a challenge emerges and is realized, organizations need to be comfortable with decisions that are made which do not align with success.
Nick noted that course correcting when failure is identified is important. Nick provided an example of a low code platform where applications were being built individually based on projects. Treasury found that the startup and wind down costs for these applications were expensive. The model was changed to align cost to a base staff and through this change opportunities could be pipelined from the first to the next and to the next after that. Nick said that this supports Agile development teams and allows teams to build on successes without needing to incur the startup and wind down costs. Nick closed by saying it's okay to make mistakes, but they need to be embraced and learned from and corrected for future developments.
References