'How Government Built This' Innovation Spotlight: How the Department of Transportation is Driving Transformation with a Focus on Safety, Equity, and Climate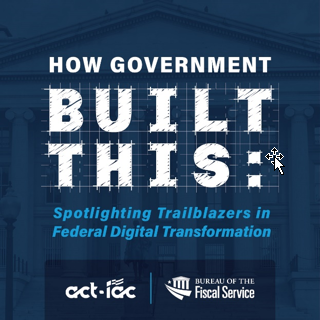 Welcome to "How Government Built This," a six-part podcast and blog post series developed by the Department of the Treasury's Bureau of the Fiscal Service Office of Financial Innovation and Transformation (FIT) in collaboration with the American Council for Technology and Industry Advisory Council (ACT-IAC) a non-profit educational organization established to improve government through the effective and innovation application of technology. This series spotlights trailblazers in Federal digital transformation. Resources and links mentioned in each podcast will also be available at actiac.org/thebuzz.
Laila Alequresh and Amy Lucero

Laila Alequresh serves as the Chief Innovation Officer for the Department of Transportation (DOT).
Laila Alequresh joined DOT after working with three of the nation's largest cities by population as an innovation expert and civic technologist. As Dallas' first Chief Innovation Officer, she was tasked with building an innovation practice and team focused on data, design, and process improvement that operated as "intrapreneurs" within City Hall. She also led Smart Cities, emerging technology pilots and design of the City's first civic innovation zones. Laila served as an Executive Advisor with the City of Los Angeles, conducting first time comprehensive analyses of 80+ infrastructure and mobility programs, resulting in multiple programmatic and policy changes that benefitted the public good. Previous to this role, she served as the Performance Management Director for the City of Philadelphia, designing pilots and improving program efficiency across the city portfolio. Prior to working in local government, Laila worked in the nonprofit and corporate sectors, improving customer service and analyzing technologies that improved customer products and services. She is the first career Chief Innovation Officer in the Office of the Secretary for U.S. DOT and is currently working closely with the Office of Research, Development, and Technology to advise on strategic research implementation. She is a past Baldrige examiner, a Bloomberg Innovator of the Week and a NextGen Government Public Service Award Finalist. Laila has a Bachelor's and Master's in Business Administration.

Amy Lucero serves as Federal Highway Administration's (FHWA) Associate Administrator of Transportation Workforce Development & Technology Deployment
In 2021, Amy became Associate Administrator, Transportation Workforce Development and Technology Deployment, after serving as the Chief Technical Services Officer and Director of Technical Services since 2009. In this new role, Amy is responsible for the Resource Center, the National Highway Institute, Knowledge Management, Accelerating Innovation, Transportation Workforce Development, and Local and Tribal Support. This new office assures a coordinated approach across the FHWA for developing and enhancing the transportation workforce through technical training, technical assistance and technology deployment. Amy holds a Master's Degree in Public Administration from the University of Colorado, a Bachelor of Science Degree in Civil Engineering and a Bachelor of Arts Degree in Economics, both from the University of New Mexico, and is a registered Professional Engineer in the State of New Mexico.
What does innovation and transformation mean to you and what inspired DOT to embark on this journey?
Laila noted that DOT groups innovation in two big buckets including i) innovation creation, which is the art and science of discovery and ii) innovation implementation, which covers deployment, scalability, and adoption of the innovation into the ecosystem itself. Transformation is the cumulative result of innovation creation and implementation efforts – it is the change, the impact seen in the system. Laila outlined that DOT is purpose driven and people centered when it comes to innovation. Laila highlighted that Chapter 65 of the new bipartisan infrastructure bill includes a section on research planning which authorizes the Department to not only consider innovation creation through research and development (R&D) and but also to consider innovation implementation to help accelerate those research discoveries into practice. Laila noted that early-stage market technology will be critical to moving into a connected future which prioritizes safety, equity, and climate.
Amy outlined that an agency could create tons of innovation but if you're not also focusing on implementation, it may be for naught. Implementing innovation is very important. With DOT, Amy noted that the agency works very closely with a diverse set of stakeholders and with that understanding the truest definition of success is when implementation on behalf of innovation for the betterment of the agency can occur.
Do you have a transformation roadmap and if so, what does your roadmap look like? Some organizations struggle with where to start. How did you decide where to focus first and how do you see things changing in the short term versus over the long term?
Laila highlighted that DOT's roadmap is informed by the DOT's 2022-2026 strategic plan which was just released, with transformation as one of the six pillars. Laila noted that there are also Key Performance Indicators (KPIs) and metrics associated with each of the strategic initiatives across the pillars. Laila outlined that some initiatives are better suited to start earlier than others, and other initiatives are more complex and require buy-in, and consensus building. Laila outlined that this is a critical time for the DOT and while the strategic plan outlines the next five years, the Department is really thinking 30 years out. Laila noted that the transportation sector may look very different in 2050 than it does today.
Amy outlined that in the operating modes of the agency the roadmap process is taken very seriously in terms of assessing funding and priorities. The roadmap cuts across geographic and organizational units for the Federal Highway Administration which helps to identify the priorities in each program area. Amy noted that with the roadmaps, the Department is focusing on cutting across silos in the different program areas to find opportunities to stay on track and collaborate more. Amy highlighted that the Department has mature roadmaps, as well as roadmaps which are just starting out and that really shows that the Department is learning and evolving as things change and move into the future.
What are the key outcomes which will serve as transformation pillars for the Department's strategic plan?
Laila highlighted that it's great to have a strategic plan on paper, but how that translates to the end-user is critical. Laila outlined that the long-term goal is to build a transportation system of the future, and the belief that this will be a connected system driven by a lot of technology. Laila noted that DOT is focusing on collaborating with stakeholders, academic institutions, and other sectors to consider what the future will look like since transportation is so integrated and complex. Laila highlighted that in designing this kind of system, cybersecurity needs to be considered and some examples of technologies which would require cybersecurity considerations include i) an intelligent intersection and a car or ii) a drone that connects to another form of transportation. Examples like this, Laila noted, introduce a lot of different factors into the system which requires trust that the organizations and people retaining this information will also ensure this information is safe and secure and that people will have a comfortable and seamless experience when taking a multimodal trip in the future.
Amy outlined that the other key outcomes the Department is anticipating are cutting edge, such as autonomous vehicles and use of unmanned aerial systems, as well as underutilized innovations. Amy highlighted that the Federal Highway Administration has an Every Day Counts program which is now in its 12th year of existence and the program is used to identify technologies and innovations which are being used across the country but are potentially underutilized. Amy noted that the Every Day Counts program shares this information and provides technical assistance to states and other transportation partners who may not be quite ready to try these innovations. The program provides a lot of hands-on assistance to help organizations mitigate risk and inform any potential hesitations around using the technologies and innovations. Amy noted that this helps focus on moving the needle in many areas, including traffic incident management, pavement technologies, virtual public engagement, as well as digital construction. Laila also noted that the Department does not expect to invent every single technology which will be deployed in the transportation system and there is a diverse set of different entities informing these technologies including universities and the private sector. Laila highlighted that the Department believes great ideas can come from anywhere and hopes to foster and scale high potential ideas to encourage them to grow.
What are the challenges an organization may face in adopting new initiatives? How do you overcome these challenges?
Amy outlined that within the Every Day Counts program, when it comes to the technologies and innovations, not everything was always quite ready for prime time, and this resulted in some great innovations that were potentially underutilized when really, the technologies and innovations just needed more time to percolate. Amy noted that piloting a solution can help with setting the critical groundwork, as well as developing the supporting documentation. Amy highlighted that capturing these lessons learned improved the Every Day Counts program, which is currently in its seventh round. Amy noted that with the program the innovations are based on the challenges the state transportation departments and other transportation agencies are facing. Amy outlined that bringing these partners into the conversation is critical to ensuring the innovations we focus on really meets their challenges.
How does DOT collaborate with other government agencies, supporting vendors, or knowledge repositories to help inform next steps for departmental transformation initiatives? And what advice would you give to other teams in terms of finding areas of collaboration?
Laila outlined that the DOT released their framework for innovation earlier this year and it is rooted in six principles with collaboration as one of the principles. Laila outlined that grants programs are some of the most visible areas where DOT collaborates across a variety of different stakeholders, including state and local government, non-governmental organizations, etc., to modernize infrastructure and mobility. Laila noted that the Department just awarded $50 million in grants to improve mobility and multimodal connections to America's highways and transit systems. Laila outlined that DOT also manages the University Transportation Centers Grant Program, which is a Congressionally mandated program that has been in place since 1987 to help address the Nation's ever-growing need for the safe, efficient, and environmentally sound movement of people and goods. With regards to collaboration, Laila also outlined that identifying collaborators with similar visions and goals helps with forming and building relationships focused on innovation.
Amy highlighted the State Transportation Innovation Council or STIC Network, which are innovation councils within each of the states showcase that a lot of innovation implementation is local. Amy noted that this has helped to instill a culture of innovation throughout the country, and this innovation culture across the country has helped the STICs to take challenges head on, using both the public sector or the private sectors to drive this innovation. Amy also noted that the local and tribal technical assistance centers also serve as conduits for sharing information with locals and Tribes, as well as the helping these entities advance these technologies and innovations.
Transformation is about the people, processes, and the culture of the organization, as much as it is about the technology. How do you prepare the organization and your workforce at all levels to embrace, accept and commit to transformation initiatives? Especially when perhaps most organizations are probably resource constraint; are too busy; or are not on board with change.
Laila outlined that experimentation is core to the Department's innovation principles to propel agencywide projects toward an equitable, accessible, and affordable transportation system. This approach, Laila noted, requires an iterative process which requires supporting internal and external partners while they are completing the hard work of discovery to make incremental improvements and/or disruptive innovation and needs to be supported as a part of the culture. Laila highlighted that if an organization anchors itself too much in the present, it could become comfortable with status quo. Thinking into the future though, things may look different and so different ways of thinking and doing need to be further encouraged.
Amy outlined that to build this type of culture people need to be able to try different ways of doing things and this needs to become acceptable and that takes leadership engagement. Amy also noted that the other key piece is getting everybody at all levels of the organizations involved in sharing and learning about great ideas. Amy highlighted that these cultures do not happen overnight and really need to be developed and focused on.
How do you think vertically versus horizontally when it comes to innovation?
Laila outlined that the DOT is cross-functional in nature, and this requires finding common strengths and pain points that really bring people together so that people do not need to solve the same problem on their own within their silos. Laila also noted that there are a lot of program silos, but also a lot of opportunity to share how they are tracking progress and outcomes, designing the programs, encouraging stakeholder engagement and more. Finding the right people and connecting to peer counterparts is key to enabling cross sharing and knowledge transfer. Laila noted that connecting folks with experience and best practices can help to share these across the enterprise, as well as help to stand up new programs and break down silos. When it comes to vertical silos, Laila noted that within government there is a lot of hierarchical decision making and enabling work which requires change management requires leadership buy-in so finding champions is very important.
How is Diversity, Equity, Inclusion, and Accessibility (DEIA) integrated across your transformation initiatives?
Laila outlined that the DOT looks at DEIA through a dual lens, in terms of workforce. For example, internally the organization is focused on recruiting people who will be successful within the DOT environment and externally the Department thinks about the workforce development angle for the transportation sector at large. Laila highlighted that DOT recently released its DEIA strategic plan which highlights five focus areas and is posted online. Overall, Laila noted that the DOT is striving to have a workforce that is representative of the American public; and, in joining the DOT family, the Department is focused on having an inclusive and equitable environment for all employees, so employees will choose a long-term career at DOT.
Amy highlighted that the DOT leads various training initiatives across the transportation sector as well, including the National Highways Institute. There are also workforce programs aimed at folks starting at kindergarten through 12th grade, as well as those in higher education such as the Eisenhower Program aimed at community college, undergraduate, and graduate students. There are also other workforce programs aimed at folks already in the transportation industry. All of these help to create good paying jobs and a qualified workforce that represents America. Along with this, the local and tribal technical assistance programs have 57 centers across the country aimed at providing assistance to the locals and tribes across the country to share resources and information and train folks across the country.
How is the DOT ensuring equitable opportunities for Americans to benefit from economic opportunities with the agency?
Laila outlined that irrespective of where people live, DOT strives to give access and opportunity into the funds and programs that DOT is managing across all types of communities. Laila noted that there are several things in place to support this, including Executive Order 14008 on Justice40 to ensure funds are invested in underserved communities that traditionally have not gained the benefits from the transportation system. Another area Laila highlighted is DOT's engagement arm in terms of meeting people on the ground to ensure people are receiving the expected benefits. The third focus Laila outlined is ensuring smaller communities are aware of the programs and funding opportunities and are being connected to the right programs and partners to design successful proposals and projects with the largest potential impacts.
Amy highlighted that not every solution fits all challenges, and the solutions may not look the same. Amy provided Safe Streets for All as an example and noted that this initiative is focused on all users wherever they may be and whatever the challenge may be. Amy noted that it's important to advocate for solutions which encourage safety, accessibility, and economic competitiveness for all. In conjunction with this, Laila noted that the Department is focused on upskilling and reskilling workers as well as providing opportunities for higher paying jobs, which aligns to DOT's innovation principle of supporting workers.
Advice for readers
Laila highlighted that defining what transformation means for an organization is very important to ensure the terms used are consistent with the organization. Along with this, Laila noted that some people are not interested in change and that's okay because sometimes things work well, so when changes are made, they need to provide value. Laila outlined that finding great partners can help with this and this success can drive momentum to help your innovation army grow in the future.
Amy outlined not to let go of the small wins, the emerging and high visibility areas are great stretch goals, but do not lose sight of the low hanging fruit. Amy noted a culture of innovation can be built around small wins to find newer, better, and more efficient ways of doing things and having an army of advocates for change can really help drive this and create the culture. Amy noted that including others is what brings the best solutions.
References
DOT Strategic Plan (Transformation is one of the six pillars): https://www.transportation.gov/dot-strategic-plan
DOT Transformation page: https://www.transportation.gov/priorities/transformation
DOT Innovation Principles: https://www.transportation.gov/priorities/transformation/us-dot-innovation-principles
DOT (Diversity, Equity, Inclusion, and Accessibility (DEIA) Plan: https://www.transportation.gov/careers/dot-deia-strategic-plan
SMART Grant page: https://www.transportation.gov/grants/SMART
Thriving Communities program: https://www.transportation.gov/grants/thriving-communities
Every Day Counts program: https://www.fhwa.dot.gov/innovation/everydaycounts/
FHWA Center for Workforce Development: https://www.fhwa.dot.gov/innovativeprograms/centers/workforce_dev/
State Transportation Innovation Council Network: https://www.fhwa.dot.gov/innovation/stic/
Bipartisan Infrastructure Law grants page: https://www.transportation.gov/bipartisan-infrastructure-law/bipartisan-infrastructure-law-grant-programs
For more information on ACT-IAC's Artificial Intelligence use case collection initiative and working group, as well as the Internet of Things working group, please reach out to Nancy Delanoche (ndelanoche@actiac.org).
ACT-IAC Use Case Summit which took place on September 20, 2022, video and materials are available.
Register for the ACT-IAC Emerging Technology Community of Interest November monthly meeting. The meeting will take place on November 15, 2022, from 10 AM to 11:30 AM and will cover ACT-IAC's Emerging Technology Accelerator.
For more information on ACT-IAC's Emerging Technology Accelerator, please reach out to Jackie French (jfrenc27@alumni.jh.edu).
For more information on academic outreach with the Emerging Technology Community of Interest, please reach out to Cindy Good (cindy.good@fiscal.treasury.gov).