And the Results are in!
Date: February 25, 2019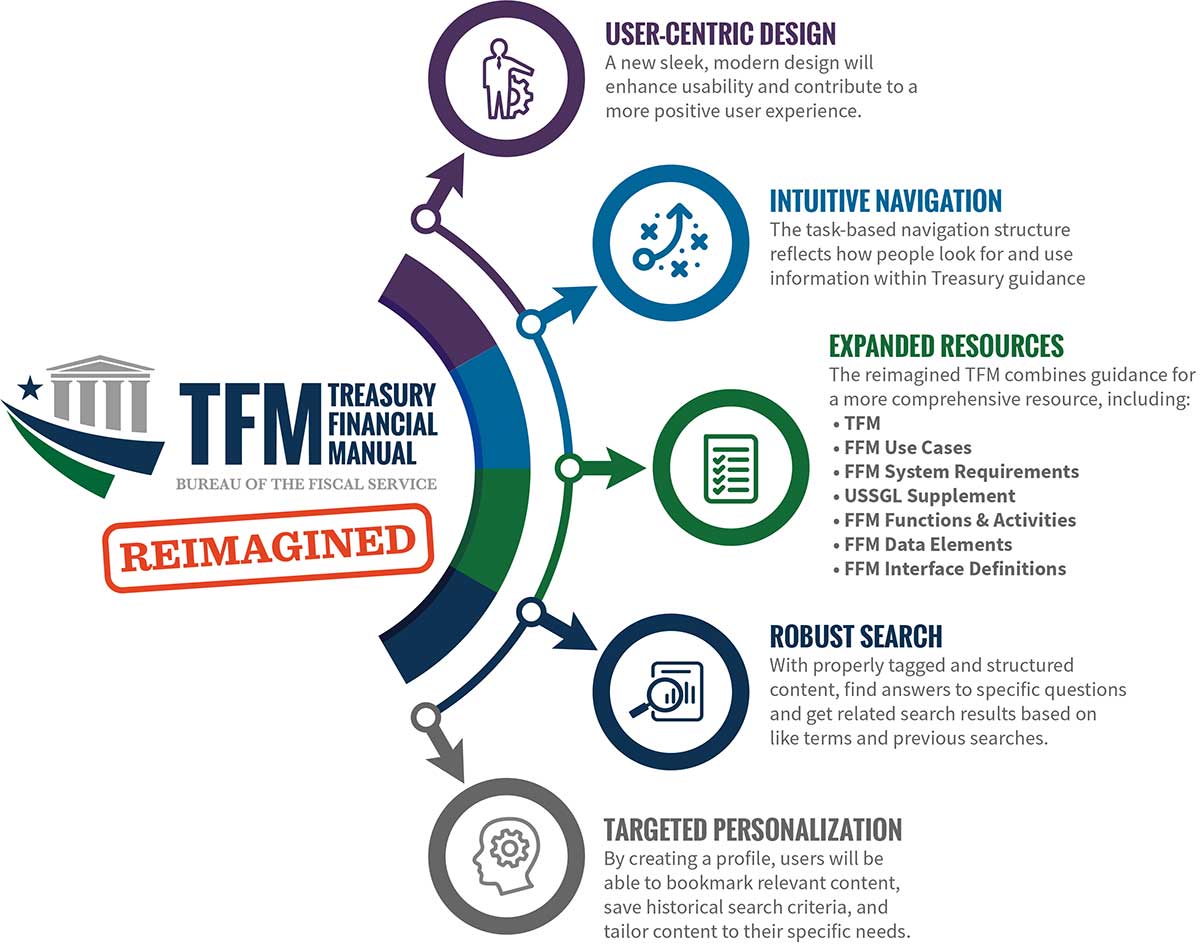 The Treasury's Office of Financial Innovation and Transformation (FIT) is reimagining the design and delivery of Treasury's financial management guidance to make it more user-centric. This work includes but is not limited to the Treasury Financial Manual (TFM). We know that to succeed, we need the Federal Financial Management community's help!
Partnering with agency subject matter experts from across the Government, and with the help of Booz Allen Hamilton, we conducted a series of focus group sessions geared toward gathering insights that would contribute to a design with the end-user in mind. Without further ado… here are the highlights:
Develop a robust search engine and maintain a visible search field – Place data into an easily searchable format and make the search field readily available.
Present links to related content, resources, and guidance – This will lessen the user insecurity that they have missed vital guidance… No more FOMO!
Include updated imagery – Introduce color and visual interest! Be sure that it does not interfere with the readability of the content.
Use a phased approach to any new delivery model – Provide access to bureau guidance in a way that is familiar to current users, including the ability to access by Volume and Chapter, and the ability to download the document.
Include a comprehensive glossary – Make sure to resolve disparate definitions that exist across the Fiscal Service.
Contain profile capability, but only if other authentication protocols are not required/ – Add profile capability for saving, bookmarking, and collaboration while capitalizing on sign-on capabilities that exist today. No one wants yet another user ID and password to manage!
Thank you to all the public servants who contributed their ideas to our work! We appreciate the time you gave to this important work.
So, what happens next…? Now we build a prototype!
Continue to follow @Fiscal Service and @FIT and look forward to future communications as we continue to work on strengthening the user experience!