The Future of Payments and Collections Forum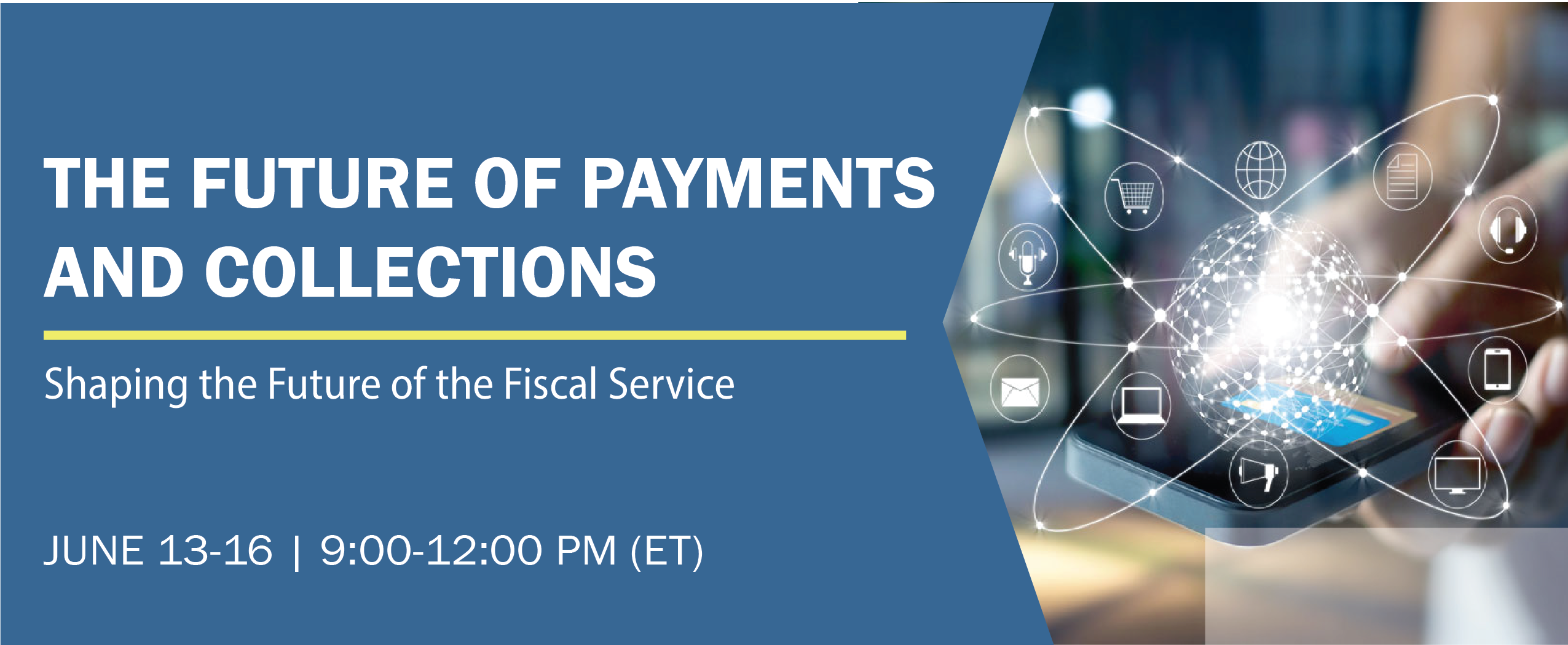 Register for the forum
About
Fiscal Service provides numerous services to over 250 federal agencies, enabling federal agencies to focus on their core mission. Of these services, money movement, financial data, and effective customer service face a growing number of changes as the financial ecosystem adapts to the increasingly digital world.
In order to continue to sustain the track record of excellence and efficiency, Fiscal Service is starting to explore how the digital payments ecosystem and transforming landscape can impact us.
The Future of Payments and Collections forum brings together thought-leaders and decision-makers across government, industry, and academia to provide an in-depth look at the payment innovations and cross- industry challenges that are transforming the payments landscape. This event is a forum for a breadth of conversations with deep dives into the range of subjects central to the evolving world of payments. This forum will provide practical, actionable guidance that can be used strategically to advance the future of payments and collections at Fiscal Service.
Why Attend?
Influential speakers will also touch on hot topics driving payment trends globally, including:
Digital payments and the growing contactless revolution
The balance between regulation and innovation
Combating fraud and validating identity through digital means
Enabling financial inclusion
Frictionless payment experiences
Protecting customers in a digital world
Agenda
Table may scroll on smaller screens
June 13, 2022
9:00 AM

WELCOME BY BUREAU OF THE FISCAL SERVICE

Matt Miller, Deputy Commissioner, Financing & Operations
Linda Chero Assistant Commissioner, Disbursing / Debt Management
Sandra Paylor, Assistant Commissioner, Collections

9:10 AM

OPENING KEYNOTE

Albert Ko, Chief Executive Officer at Early Warning Services

9:40 AM

THE CURRENT PAYMENT LANDSCAPE: MEETING CONSUMER DEMAND FOR SPEED, CONVENIENCE AND FLEXIBILITY

Nadir Z. Isfahani, Program Manager at Bureau of the Fiscal Service (Moderator)
Daniel Baum, SVP, Head of Payments Product for FedNow at Federal Reserve Bank of Atlanta
Miguel Diaz, Head of Toronto Centre, BIS Innovation Hub
Joe Flaherty, Vice President, Working Capital Consultant, at U.S. Bank
Leo Lipis, Chief Executive Officer at Lipis Advisors

11:00 AM

FRAMEWORK OF THE FUTURE: INTEGRATING DIGITAL PAYMENTS AND IDENTITY

JoDee M DeVillier, Director of RCM's Business Transformation Division at Bureau of the Fiscal Service (Moderator)
Margarita Alvarez, Senior Vice President, Strategy, Digital, and Innovation at Wells Fargo
John Cowan, Chief Technology and Operating Officer, Payments Canada
Jesse McWaters, Global Head of Regulatory Advocacy at Mastercard
Alex Pentland, Founder and Director of MIT Connection Science
June 14, 2022
9:00 AM

OPENING REMARKS

Lillian Cheng, Chief Counsel, Bureau of the Fiscal Service

9:05 AM

THE GLOBAL VIEW: GEOPOLITICS AND REGULATION OF DIGITAL ASSETS

Megan Greene Council of Economic Advisors, Executive Office of the President (Moderator)
Paul Nelson, Senior FinTech / Digital Finance Advisor at USAID
Matthew Osborne, Payments Policy at Bank of England
Julia Smearman, Deputy Director, International Financial Markets at U.S. Department of the Treasury
Thomas Santoro, Financial Economist, Office of Macroeconomic Affairs, Department of State

10:30 AM

IMPACT ON CONSUMER FINANCIAL PROTECTION

Xinxin Wang , Acting Director, Office of Consumer Policy at Treasury (Moderator)
Robert Mahari, JD-PhD Student at Harvard Law School and MIT
Rafe Mazer, Director of Consumer Protection Initiative at Innovation for Poverty Action
Alexandra Rizzi , Senior Research Director of Consumer Data Opportunities and Risks at Center for Financial Inclusion
June 15, 2022
9:00 AM

OPENING REMARKS

Matt Garber, Chief Customer Officer, Bureau of the Fiscal Service

9:05 AM

THE PATH TOWARDS PROMOTING FINANCIAL INCLUSION

Esther Chibesa, Managing Director of Treasury and Trade Solutions at Citi Bank
Ivy Lau, Global Public Policy and Research Lead Manager at PayPal
Harish Natarajan, Lead Financial Sector Specialist, Finance, Competitiveness & Innovation at World Bank
Chike Ukaegbu, Head of Crypto Strategy - Emerging Markets at Visa

10:30 AM

WHAT DO DISRUPTIONS IN THE FINANCIAL ECOSYSTEM MEAN FOR THE FUTURE?

Paola Diaz, Office of Innovation, FDIC (Moderator)
Bhaskar Chakravorti, Dean of Global Business, The Fletcher School at Tufts University
Nathan Goodson, Supervisory Examiner, Federal Reserve Bank of St. Louis
Salah Goss, Senior Vice President, Social Impact, North America Center for Inclusive Growth, Mastercard
Dominik Mjartan, President and CEO Of Optus Bank
June 16, 2022
9:00 AM

OPENING REMARKS

Dan Vavasour, Managing Director, Management, Modernization, and Customer Care for ARC at Bureau of the Fiscal Service
Justin Marsico, Chief Data Officer, Bureau of the Fiscal Service

9:05 AM

ESTABLISHING THE FUTURE OF THE FINANCIAL ECOSYSTEM BY BUILDING COALITIONS

Brett Smith, Director, Payment Strategy and Innovation Division at The Bureau of the Fiscal Service (Moderator)
Sunil Sachdev, Head of FinTech and Growth at Fiserv
Colin Soutar, Managing Director at Deloitte
Kenneth Tessem, Strategic Account Manager, BankID
Howard Forman, Head of Digital Channels, Treasury Management Team at PNC

10:30 AM

CREATING A SEAMLESS EXPERIENCE THROUGH UNIFIED BUSINESS LINES: BRINGING TOGETHER COLLECTIONS AND DISBURSEMENT

Tom Kearns, Attorney Advisor, Bureau of the Fiscal Service (Moderator)
Brian O'Connor, Managing Director: Embedded Banking, eCommerce, and Cross Border Payments at JP Morgan
Nitin Prabhu, Vice President, Enterprise Platform Integrations at PayPal
Kashif Siddiqui, Senior Vice President, Payments Innovation at Bank of America

12:00 Noon

CLOSING KEYNOTE

Fernando Martin, Assistant Vice President at Federal Reserve Bank of St. Louis
Online (Virtual)
---
Monday, June 13, 2022 to Thursday, June 16, 2022, 9:00 AM – 12:00 PM ET
---
Free
---
Hosted by:
Payment Management and the Office of Financial Innovation and Transformation
---
Point of Contact:
For questions, please e-mail Cindy.Good@fiscal.treasury.gov  or Karthik.Yarlagadda@fiscal.treasury.gov.
---