Centralized Receivables Service
Centralized Receivables Service (CRS) helps federal agencies manage their accounts receivable – money owed to the agency from individuals, businesses, and states.
CRS focuses on collecting current, non-tax, administrative debts prior to delinquency.
How Does CRS Help Federal Agencies?
Increased Collections – Get payments faster with prompt invoicing, follow-up, and access to electronic options
Reduced Costs – Drive down costs through standardized and automated services
Transparency – Get high quality and more visible data 
Compliance – CRS assures agencies comply with Federal Claims Collection Standards, Debt Collection Improvement Act, and other Treasury and debt collection laws and guidance
Improved Business Processes – CRS offers standard yet flexible workflows that allow for improvement of current business processes
For more information on the program and participation, see our Frequently Asked Questions for Agencies and visit the CRS Contacts page.
Federal Agencies: Enroll in CRS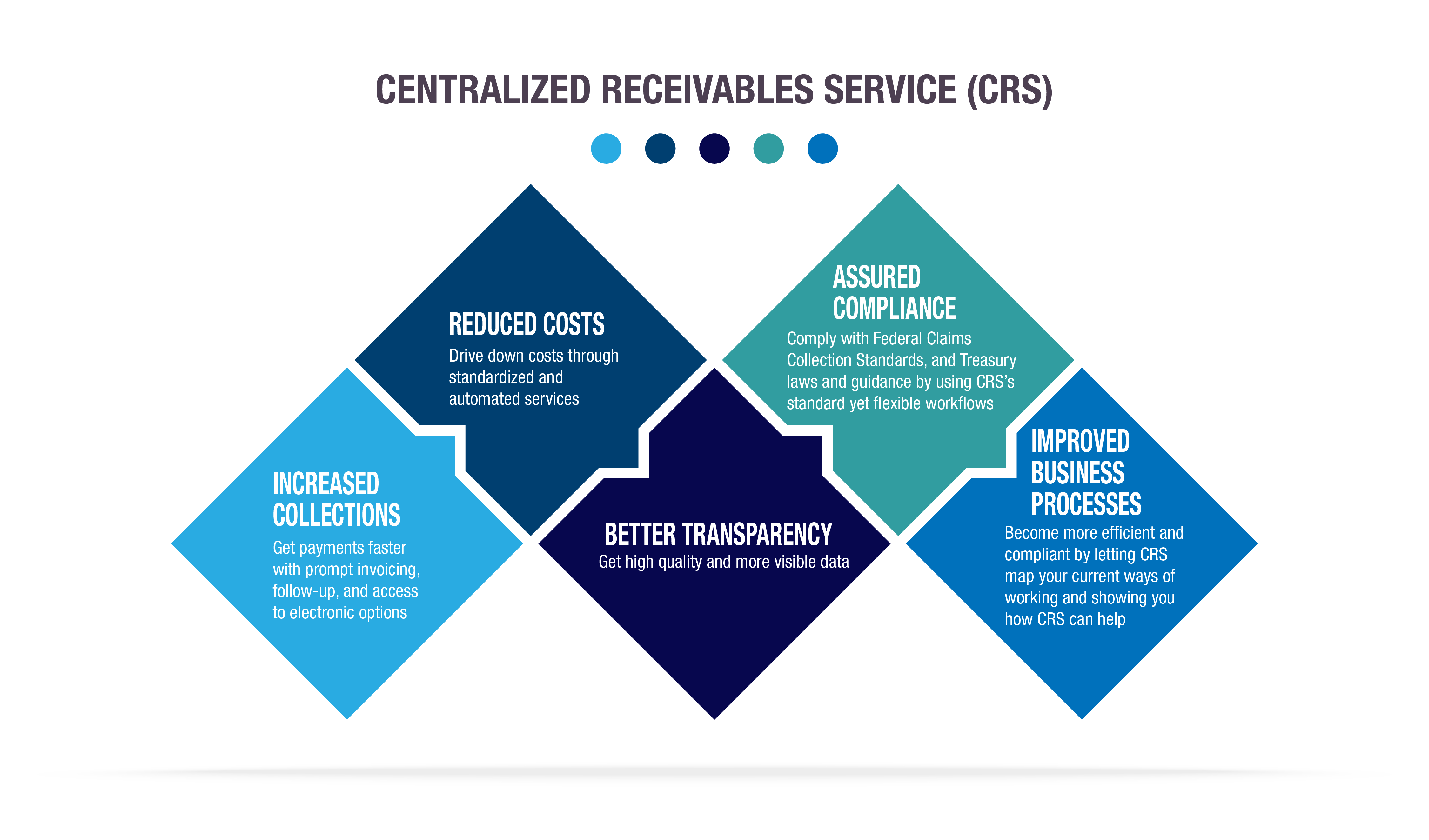 Do You Owe Money to a Federal Government Agency?
If you owe money to the federal government, the invoice/notice you received provides information about the debt. Please review the invoice/notice in its entirety, and contact CRS at the phone number provided to discuss or make a payment.
You may also find useful information by accessing Frequently Asked Questions for Individuals and on our Resources for Payers.
Need Help?
Do You Owe a Debt?
Check your invoice or past-due notice for contact information.
FAQs for Individuals Who Owe Money
Frequently Asked Questions for Individuals
Agency Customers
Frequently Asked Questions for Agencies
CRSLiaisonGroup@fiscal.treasury.gov
Looking for Additional Legal Authorities?
CRS is one of several debt collection programs offered by the Bureau of the Fiscal Service. Various public laws, statutes, and executive orders govern all these programs. To learn about these legal authorities, visit Debt Management.