Financial Management Standards Committee (FMSC)
The Financial Management Standards Committee (FMSC) is a forum where financial managers in federal agencies:
discuss financial management issues and needs
share best practices
weigh in on changes to relevant standards
develop solutions that promote efficiency and integrity across government
Committee members also scan and review new laws, regulations, and changes to the Federal Accounting Standards Advisory Board. They track and evaluate impacts to the standards, which are updated every July. In summary, the FMSC has three goals:
To enable agencies to collaborate, share information, and learn about best practices in financial systems and business processes.
To empower agencies to strategically solve common problems impacting the FM community.
To surface and explore the application of new technologies to government-wide financial management.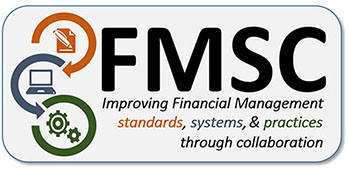 How it Works:
The FMSC is open to and comprised of members from the 24 CFO Council agencies, and representatives from the Small Agency Council. The FMSC is managed by the Office of Financial Innovation and Transformation as the Managing Partner of the Financial Management Line of Business.
Acting as the "pulse of the government," the FMSC works to improve federal financial management performance, productivity, and efficiency, through three activities:
Addressing system issues by removing system-driven impediments
Expanding leading FM practices by fostering practices that support superior financial management
Addressing new regulatory guidance by coordinating agencies' approaches to implementing that guidance